A unique thank you gift is being used to generate for funds for the Vest Project.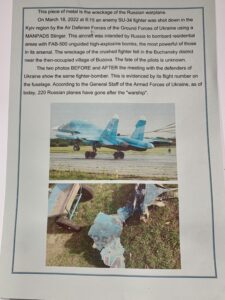 Co-founders Lori Burns and Cindie D'Agostino have been raising money to purchase non-lethal equipment for the people of Ukraine.  
As a thank you from the KOLO Charity Foundation, they recently received a piece of metal from a Russian fighter jet that was shot down in the Kyiv region in March. 
Since the start of the war, The Vest Project has been able to purchase $85,000 worth of protective gear including vests, helmets, medical kits, night vision equipment and drones. 
Anyone interested in making an offer on the piece of the downed jet can call 705-471-3655.