The CN Tower will be lit up in green on Friday, Sept. 15 for International Myotonic Dystrophy Awareness Day.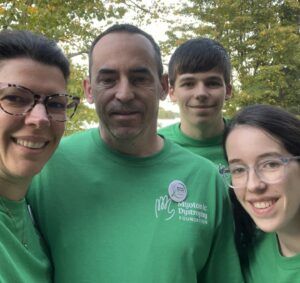 And it's thanks to an area family.  
"One of the things the Myotonic Dystrophy Foundation does is they light up monuments in green across the world," says Julie LeBoeuf, whose daughter Alexandra was diagnosed with the childhood juvenile onset of Myotonic Dystrophy Type 1. "This year the CN Tower at our request will be lit up green so we're very excited."  
Julie says she and Alexandra, who is now 22 and a student at Nipissing University, are the facilitators of a Canadian support group. 
"Myotonic Dystrophy is a neuromuscular disease," LeBoeuf says. "The type that my family has is progressive and it affects every system in the body."  
She says they hold paint nights to raise funds, take part in the Muscular Dystrophy walk, and do advocacy and awareness work year-round.  
LeBoeuf also says Alexandra designed the logo that is used for the awareness day around the world and was recognized for her advocacy work with an award at their first virtual conference.  
Everyone is encouraged to wear green on Friday to show their support.