Nearly 100 Junior Canadian Rangers (JCR) from several First Nations across the north are taking part in summer camp activities in our area.
Camp Loon is run by the 3rd Canadian Ranger Patrol Group and promotes traditional, ranger and life skills to youth ages 12 to 18.
Military officials add the camp has been successful, so they've moved from Geraldton, where the camp has been run for about 20 years, to Spirit Point Academy and Camp in Trout Creek.
"We moved the camp to a different location in order to accommodate more Junior Rangers from our communities," says Master Warrant Officer (MWO) Dan Stortz, 3rd Canadian Ranger Patrol Group.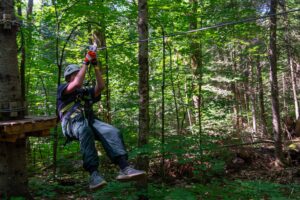 MWO Stortz says the JCR program looks to develop self-confidence, leadership skills, and an appreciation for the outdoors.
"Teamwork is definitely a big point of it," he says. "It's also good for the JCRs from other communities to meet other JCRs, make new friends, create new relationships and develop those personal relationships going forward."
MWO Stortz says some of the activities they offer at Camp Loon include tree-top ziplining, air rifle shooting, first-aid, safe use of ATVs and boats, archery, canoeing and more.
16-year-old Junior Canadian Ranger (JCR) Nadia Shoomin from Kitchenuhmaykoosib Inninuwug First Nation, which is about 580 km north of Thunder Bay, says the highlight is learning a variety of different skills.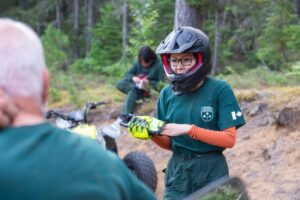 "I like that it shows you a lot and teaches you a lot of important things that you might need in the future while you're growing," she says.
JCR Shoomin adds those skills have already helped her in a real-life scenario.
She says about a year after her first time at Camp Loon she and her sister were out swimming when a family was nearby, and a boy got caught up in some currents.
"The dad tried to help, tried to save him, but while he was swimming he had an asthma attack and the mom was extremely worried and yelling for help," JCR Shoomin says. "My sister and I dove in and we went to go swim to them and we brought them back to shore."
She says CPR wasn't needed but had received training in that too.
One rotation of about 50 JCRs from eleven different First Nations in Northern Ontario are at Camp Loon this week.
Another 50 JCRs from 15 other communities will be there next week.