Three new commanders have taken over squadrons at 22 Wing CFB North Bay, including the United States Air Force contingent at the base.  
Change of command ceremonies took place on Friday.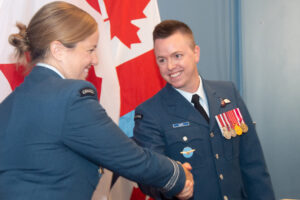 Lieutenant Colonel Matthew Borger is now in command of Detachment 2, First Air Force, with a change of appointment ceremony for the Operations Support Squadron also taking place.   
Ceremonies also saw Major Angela Hudson take over command of 51 Aerospace Control & Warning (Operational Training) Squadron while Lieutenant Colonel Ken Bedley is now the 22 Mission Support Squadron commander.  
Outgoing commanding officers include Lieutenant-Colonel Julianna Bruns, Major Andrew Baier and Lieutenant-Colonel Martin Roy.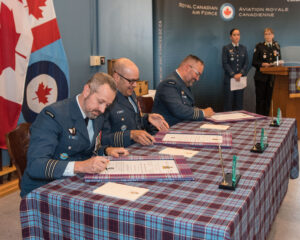 "Each commanding officer displayed unique and strong leadership skills, guidance, community mindedness and teamwork ensuring the execution and support to the NORAD mission, whereby safeguarding Canadian and North American aerospace," says Colonel Richard Jolette, 22 Wing and Canadian Air Defence Sector Commander. "In addition, each have displayed a true passion for the community of North Bay." 
Jolette adds the Royal Canadian Air Force is proud of their service, saying Canada owes them a debt of gratitude.