It's a feather in the cap for BAYSAR Air Search and Rescue in North Bay.  
The local team created a 'train-the-trainer' course for electronic air searches and it's been recognized by Project Lifesaver International.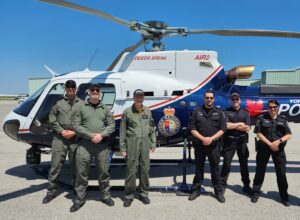 Project Lifesaver clients wear a small radio transmitter 24 hours a day and if they go missing, police equipped with tracking receivers can search for them. 
Stan French, BAYSAR President, says after they took the U.S. course and developed it into a Canadian version, the chief of Project Lifesaver International accepted it and asked to use it for international training.  
"It shows that we're not just a local volunteer search and rescue organization working to help others," French says. "We're becoming a centre of excellence for Project Lifesaver."  
BAYSAR recently provided training for the York Regional Police (YRP) Air Support Unit, with the course including searches for transmitters during the day and at night.  
"An air search for Project Lifesaver means that you can add range, where on the ground it's limited by line-of-sight," French says. "The radio waves have to be able to travel the same as you can see.  When you're up in the air you can overcome those obstacles."  
He also says it can help if a missing person is in a low area, like a ditch, and can speed up the process in finding them.  
York Regional Police welcome the training.  
"With the implementation of the Airborne Project Lifesaver Electronic Search capabilities, we now have the ability to dramatically decrease the amount of time a Project Lifesaver participant is missing by being able to quickly identify the area where the missing person is located and working in coordination with the ground searchers to pinpoint and locate the person," says Constable David Waller, York Regional Police.  
BAYSAR says families looking to get involved in Project Lifesaver in areas patrolled by the North Bay Police Service, North Bay OPP, or Nipissing West OPP, can get a referral through the Alzheimer Society, One Kids Place, or by emailing BAYSAR at [email protected]