Get ready for Canadian fighter jets to be screaming across the sky at North Bay's waterfront early next month.  
The CF-18 Tactical Demonstration Team and the Canadian Armed Forces Skyhawks Parachute team are descending on the city for Armed Forces Day on Wednesday, June 7.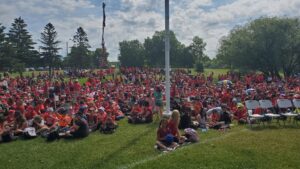 It's the 11th in-person event.  
"We are residents in the city. We are volunteers. We are hockey and soccer coaches," says Col. Richard Jolette, 22 Wing Commander. "It's our opportunity to showcase what we do and show back the appreciation to the community that supports us."  
He also says 22 Wing continues to play a key role in defending our skies.  
"Whether it's an aircraft flying or anything else that's flying in the skies over Canada, we have systems that are able to detect that. We have a role to play in that. Absolutely," he says, when asked about recent surveillance balloon incidents in Canada and the U.S. "If it flies, it's something we're going to see."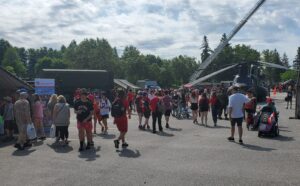 Along with the air displays on Armed Forces Day, the 22 Wing Band will be there with military static displays also set up.  
Mayor Peter Chirico is encouraging everyone to come out and show their appreciation to the men and women serving locally in the Canadian Armed Forces and United States Air Force.  
"It's about engagement in our community to make sure that everybody in our community knows what they do and why they do it," he says. "The fact that they keep us safe and allow us to sleep at night. That is the key message."  
Free events and activities will run from 10:30 am to 3 pm on June 7, with Memorial Drive closed from 7 am to 4 pm that day.