Graduation is just around the corner for the inaugural class of the Near North District School Board's (NNDSB) Custodial Services Training program.  
The school board partnered with the District of Nipissing Social Services Administration Board (DNSSAB) and Yes Employment Services to offer the program.  
Officials say it's one of only a few in Ontario and the only one in our region. "Employment training programs such as these assist individuals with training a solid foundation of relevant skills and training to attach to the labour market, improve their self-esteem and overall wellbeing, and help reduce social assistance dependency by providing educational pathways out of poverty," says Mark King, DSNABB Chair. "These programs also have the potential to assist in filling gaps in the local labour market."  
Student Rayanne Doyle found the program on Facebook and signed up two weeks before it started.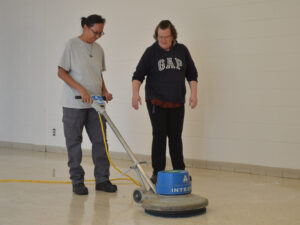 "I've never used any of the tools we use here and the instructor, Deborah Lamb, is really nice and a good teacher," says Doyle. "If you don't have confidence in yourself, this will build it up for you. It gets you motivated to do something, and it also helps with the community." 
The program is open to individuals 18 and older, and those without a Grade 12 diploma can earn up to six credits while training to be a custodian. 
"The learning atmosphere is great; Mrs. Lamb is a great instructor and I've learned a lot," says student Charlie Reynolds. "The vast variety of stuff that I'm learning has been a highlight. I've learned CPR, first aid, working from heights, all the coronavirus stuff and how to stay safe."
Students engage in theoretical learning in a classroom and then apply their new skills in a school environment.