Zero emission training starts this fall at Canadore College's Motive Power shop.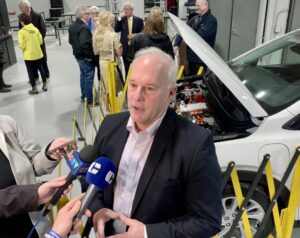 As the province prioritizes transitioning to a more sustainable future, the college is expanding its programs to include battery electric technology.   
"Every major manufacturer, be it automotive, recreational vehicles, or your garden vehicles/tools all have electric options today and that's their fastest-growing segment," says George Burton, Canadore President and CEO. "We have to be there to provide those technicians and technologists to provide those services."  
The college's Zero Emission Training Centre was officially opened on Friday with Vic Fedeli, Nipissing MPP, joining Canadore officials at the Commerce Court campus. 
 "I think Canadore College is a real leader in this," says Fedeli. "I think they're showing the rest of the colleges the way forward. You need to be where the puck is headed and that's where Canadore is." He says over the last two and a half years, Ontario has attracted $25 billion in investments by global automakers and suppliers of electric vehicle batteries and battery materials.  
"This great new centre will help ensure that Ontario remains a global leader," Fedeli says.  
The province also contributed $331,000 in funding.