Two hockey players from the area will be donning the red and white maple leaf in the coming weeks.
On Monday, Corbeil's Ben Gaudreau, who plays for the OHL's Sarnia Sting, was named one of two goaltenders for Team Canada at the World Junior men's championship.
The San Jose Sharks draft pick won gold with Canada at the 2021 IIHF World Under-18 Hockey Championship in Frisco, Texas.
The World Juniors takes place Dec. 26 to Jan. 5 in Halifax, NS and Moncton, NB with Canada opening the tournament on Boxing Day against Czechia.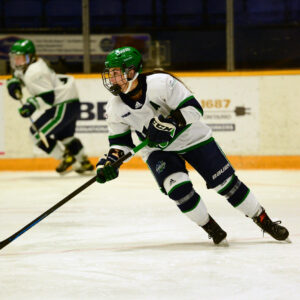 On Tuesday, Nipissing Lakers' forward Maria Dominico, who's from North Bay, was named to Team Canada in women's hockey at the 2023 FISU Winter World University Games in Lake Placid, NY.
In 13 games so far this season, Dominico has 5 goals and 7 assists for 12 points.
The former North Bay Ice Boltz player is a fifth-year forward with the Lakers.
Team Canada opens its schedule on Wednesday, Jan. 11 against Slovakia.
The women's hockey competition at the FISU games runs Jan. 11-21.