Canadore College says its grow pod project is already showing signs of success. 
The college is helping to develop a network of Campus Living Labs that showcase ways to reduce greenhouse gas emissions.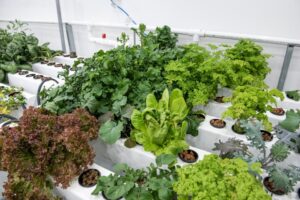 They're one of ten sites across Canada. 
Canadore's focus is on food security for rural and Indigenous communities.
"The project was selected due to necessity," says Jesse Russell, Canadore's Sustainable Development Project Leader. "For some rural communities, fresh produce is either overpriced, lacks quality, or is difficult to obtain."
The college says herbs are already being produced for Canadore's on-campus dining room, 100 Elements while the grow pods are being used in applied research focusing on food grown in different environments. 
"This is a great opportunity for remote and Indigenous communities looking to grow food closer to home throughout the year. Produce from the pod is delivered on foot rather than by refrigerated truck, thereby displacing the use of fossil fuels," says Russell.
Canadore says the climate resistant pod operates off grid 24 hours a day, and will have the capacity to produce approximately 30,000 pounds of food a year.