Canadore College's new addictions treatment centre will be opening in the summer of 2023.  
College and provincial officials gathered Friday at the indoor sod turning to mark the start of construction on the 53-bed facility on Lakeshore Drive in North Bay.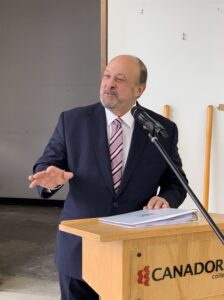 Michael Tibollo, Ontario's Associate Minister of Mental Health and Addictions says the unique facility will train people and it will treat people, close to home. 
"I've read a lot of studies that show that if you're going to support people, you need to support them where they live," he says. "When you don't they go looking for help elsewhere, which I believe has led to a lot of the homelessness issues that you see in Sudbury, North Bay and in Thunder Bay." 
Tibollo says the next concern is where are they going to get the staff to manage additional facilities.
"That's why Canadore College was selected," he says. "Because of its Indigenous studies, because of its excellent programs in nursing, in addiction treatments, these are going to be the leaders of the future."
George Burton, Canadore President and CEO says the college is pleased to be providing additional capacity to fight the growing problem of addiction in our region. 
"This new Healing, Education and Wellness hub will reduce wait times for treatment and connect with mental health services adapted to individual client needs," he says.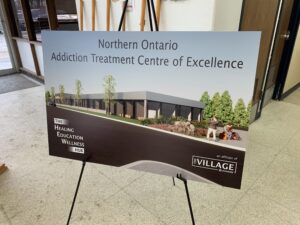 Burton also says there have been some delays with the project.
"We're behind already," he says. "We started this project during the pandemic and it's taken a while for supply chains to sort themselves out. We wanted this open about a year and a half ago." 
Vic Fedeli, Nipissing MPP says the province is supporting the centre with $7.9 million. 
"We've seen the issues throughout the community, we know the addiction numbers and the opioid numbers are on the rise here in the city," he says. "It's a full wraparound centre and that's why this centre is so important. 
The facility will include withdrawal management, residential treatment and supportive treatment beds with services tailored to the needs of each client.