"Hands off workers' rights."  
That's the message from dozens of union members and supporters to the province as they rallied in front of Nipissing MPP Vic Fedeli's office Tuesday evening. 
The province introduced legislation this week that would force 55,000 education workers into a four-year collective agreement and restrict their right to strike.
CUPE has said their members would stage a province-wide work stoppage on Friday.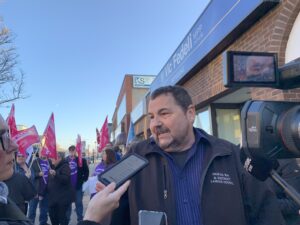 Henri Giroux, President of the North Bay and District Labour Council says they want to negotiate a settlement.  
"They don't want to settle a strike, they want us to do what we're doing right now," he says. "They want us to walk out because they want to be bullies and push the laws that they're pushing to see that the've done it.  That's all they're being right now, Doug Ford is being a bully."
Michel Gagnon, a secondary school custodian and executive with the Ontario School Board Council of Unions, says they can't afford to live on $39,000 a year.
He says they're willing to go as far as it takes. 
"I'll go to jail if I have to because I can't afford to buy food anymore," he says. "If I go jail, I'll be in jail for Christmas, send my gifts to the North Bay Jail. I'll have room and board."
Gagnon also says the raise they're looking for is $3.25. 
Tuesday's rally in North Bay coincided with one put on by the Ontario Federation of Labour at the Ministry of Labour headquarters in Toronto.
**With files from Wendy Gray