Prime Minister Justin Trudeau is thanking local military members. 
That was the focus of his BBQ visit late Wednesday afternoon at 22 Wing CFB North Bay. 
The PM thanked the men and women of our Armed Forces and their families for all they've done over the past couple of "difficult" years.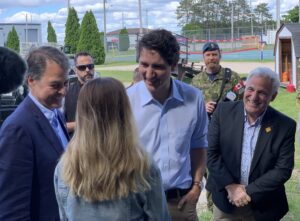 "Every step of the way the Armed Forces have been there, even through the pandemic," Trudeau told the crowd.  "Whether it was delivering vaccines through the extraordinary logistical abilities of the Armed Forces or whether it was responding to floods and wildfires and other challenges that step up, you have consistently been there and you will continue to." 
He also touted government increases in defence spending. 
"That includes a big announcement we made that I know touches 22 Wing directly which is the NORAD modernization," he said. "It's been decades since we've stepped up in modernizing NORAD and I know the work that you've done here and continue to do here is extremely integral to that and I want to thank you for all of that."
Last month, Defence Minister Anita Anand announced Canada is investing $4.9 billion over the next six years to modernize continental defences and to protect Canadians from new and emerging threats. 
She said this is the most significant upgrade to Canadian NORAD capabilities in almost four decades.
Here in North Bay, Trudeau also talked about his visit to Latvia in recent months, and seeing some of the troops serving on NATO's eastern flank, demonstrating Canada's commitment to the values and principles that underline our democracy.