Despite it being a busy time of year for Santa, he still found a way to visit Sturgeon Falls this morning.
With help from some friends, Yvon Renaud of Y & R Hair Design went to deliver some holiday cheer.
"It all started with the parade being cancelled," said Renaud. "I thought it's sad that the little ones aren't going to see Santa this year. Then I saw in another city that someone had dressed up as him and went around on a horse and thought it was a great idea."
A few phone calls later, and Renaud was dressed up as Jolly Saint Nick, riding a horse.
He made the rounds as he visited various local schools, as well as Au Chateau and the West Nipissing General Hospital.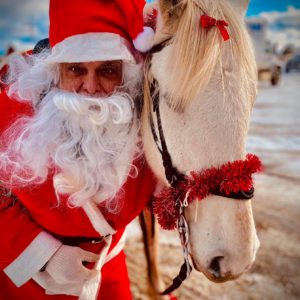 "It was a last-minute thing, but it was a huge success. You could see it on the kids' and the adults' faces. It was all about the spirit of Christmas," added Renaud.
Renaud says that it's been a long year, and folks won't be celebrating the same way that they're used to.
"I just wanted to do something to help everyone get in the Christmas mood. If I would've just driven to the schools, it wouldn't have been the same. The horse was awesome and it brought joy. People have been sending me texts or calling me saying thanks for raising their spirits… that's what it was all about," ended Renaud.