After years of work and planning, the Nipissing Serenity Hospice is officially open.
On Saturday, the hospice hosted an open house, along with a ribbon-cutting ceremony and for Mathilde Bazinet, the mastermind behind the project, it's "mission accomplished".
"It is such a wonderful feeling and a sense of relief because it is the end of our journey," Bazinet explained. "Now it will be the mission of our professional staff to provide the best palliative care that they possibly can and make this hospice a centre of excellence for our whole region."
Bazinet says she first met with then-Mayor Vic Fedeli on the possibility of building a hospice in North Bay over 10 years ago, and she was one of the first to meet with Mayor Al McDonald once he was elected.
"Both of them have been extremely important," Bazinet said.
As for McDonald, he echoes Bazinet's sentiments on relief now that the building is open.
"I don't know if Mathilde will ever come back and visit me at my office anymore," he said with a laugh. "It was just a long process. It was in January 2011 that we first met and she explained how important a hospice was. I never envisioned it would take this long, and I never envisioned it would be this beautiful."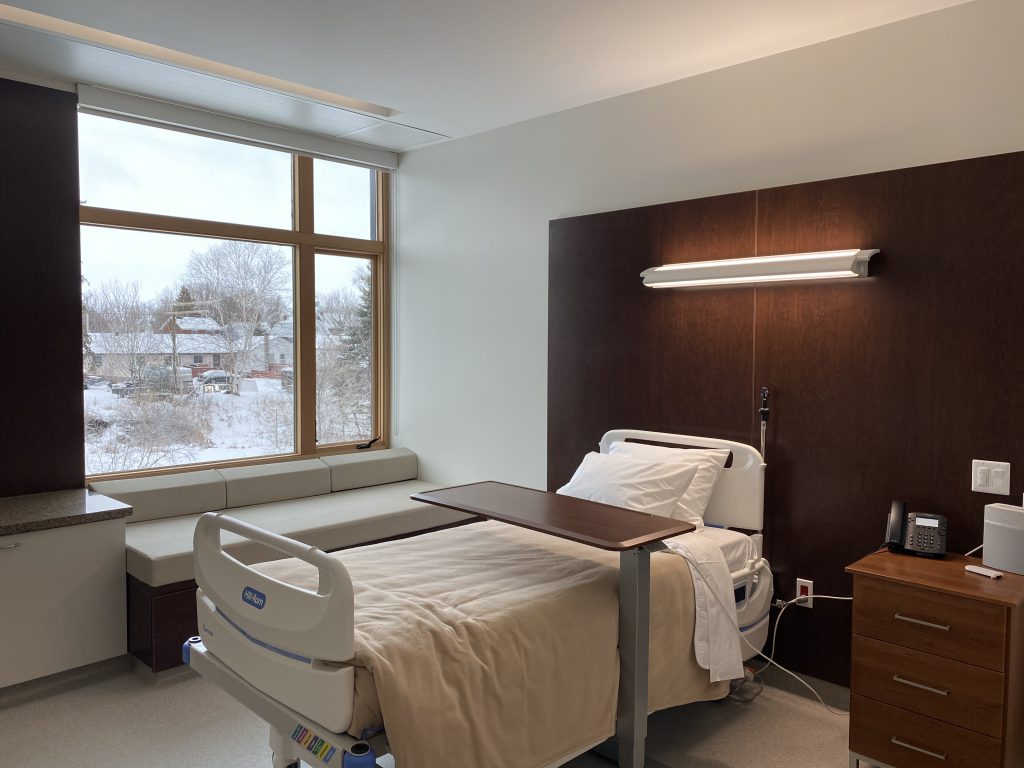 Nipissing-Timiskaming MP Anthony Rota's mother spent five months in palliative care at the North Bay Regional Health Centre, and as a donor of the hospice, he is very happy to see the building soon to be in operation.
"The people at the hospital were very good, very attentive," Rota explained. "But something like this gives it another level and makes it easier for a family who is losing a loved one. To me, a hospice is very important and is something that we can be very proud of as a community because we all came together and we all made a difference."
"This is about one person who led, but a lot of people who followed and made a difference," Rota continued. "This is what makes Canada the country it is, and North Bay the city, and the riding of Nipissing-Timiskaming that it is."
As for finally stepping foot into the building, both Rota and McDonald are impressed.
"The detail is amazing," Rota said. "The architects really put their heart into it. This is a building that is accessible by a lot of people as opposed to a house with a lot of rooms and you can see it come through with the wood around the windows, or the frosting in the glass, it is very peaceful. You can play your own music and it really comes together."
"When we first started talking about this years ago, it was like a vision, something we wanted but we didn't know how it was going to come about," Rota continued. "A lot of hard work has gone into it and a lot of hours have gone into it. It is special to all of us in the riding."
"It's spectacular," McDonald said. "It is very warm, welcoming and comfortable feel when you walk in the door."
The hospice also created 30 jobs in North Bay, with 21 full time, and 9 part-time jobs, according to Bazinet.
Even though the building is open, patients won't enter for close to a week and a half.
"They have to flush the ventilation system," Bazinet explained. "During construction, there is a lot of dust that accumulates in the ducts."
After countless efforts, such as dances, hospice hikes, and concerts to raise money, with the doors open Bazinet can finally enjoy the fruits of her labour.
"Stepping foot in this building reminds me of something my mother once said to me, 'never stop my daughter until you finish your job,'" Bazinet said. "My Mom is probably thinking, up there, 'you did it, my dear, now rest!'"