Fifty years and counting.
That's how long Greco's Pizza and Pasta on Algonquin in North Bay has been operating.
And brother and sister owners Stephanie and Taylor Trottier celebrated with a customer appreciation day on Wednesday with prizes, free slices of pizza and beer sampling.
The roots of the pizza place go back to 1913 when it was first a bakery and known as Greco's Bakery.
Stephanie Trottier says today's restaurant has an old black and white photograph of a horse-drawn carriage delivering bread from Greco's Bakery.
In 1969 the bakery was turned into a pizza spot and became known as Greco's Pizza.
Five years later Terry Trottier bought Greco's Pizza and more recently sold it to his son and daughter.
Stephanie Trottier says Greco's Pizza was a take-out spot and it wasn't until 1983 that the dinning section was added and the take-out business became a sit-down restaurant.
Although the original Greco family has not been involved with the business for decades, Trottier says her family has maintained the name.
"Why would you change something when it's so popular and has a good connotation to it," she said.
Trottier adds although the Grecos no longer are part of the business, the family members continue to come in as customers.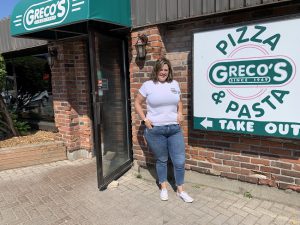 On the topic of customers, Trottier says the family has been fortunate.
"Everyone is so kind to us when we're really busy," she said.
"They are so patient. We get so much repeat business.  We have the nicest people who come back.  We're really grateful for that."
The pizza dough the family uses is an original bread recipe and Greco's makes other goods from that recipe like its pitas.
As for another future expansion, Trottier says it's a topic of conversation from time-to-time but there are no plans in the short term.