The North Bay-Mattawa Conservation Authority holds its annual trek to the Eau Claire Gorge this Friday.
The gorge along with the Amable du Fond River were formed millions of years ago as a result of glaciers and faults.
The NBMCA has secured a geologist to explain what hikers are seeing as they go through the rugged and steep terrain and make their way to the waterway.
He's Larry Dyke who was with the Geological Survey of Canada.
Sue Buckle, NBMCA Manager Communications and Outreach, says interested people need to register for the hike and reserve a seat on a bus heading to the site, which is just west of Mattawa off Highway 17.
The bus leaves at 8:15am Friday from the New Ontario Brewery at 1881 Cassells Street.
The fee for the ride is a donation with whatever you can afford.
To register and reserve a seat call the NBMCA at 474-5420.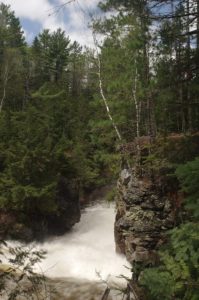 Because of the trail's ruggedness and steepness, the NBMCA recommends people have solid footwear.
The NBMCA suggests participants be reasonably fit and wear appropriate clothing.
People who want to drive to the Eau Claire Gorge themselves are still asked to call the NBMCA to register.
The hike begins at 9:30am and takes about one-and-a-half hours.