A week after saying he was removed as the Conservative candidate for Nipissing-Timiskaming, comes word that North Bay city councillor Mark King is now the candidate for the People's Party of Canada.
King made the formal announcement Wednesday morning at his business surrounded by PPC supporters, both young and old.
King says before he declared as a Conservative candidate, the local PPC riding association approached him to consider the People's Party of Canada nomination.
King says he thought about it for several days but told party officials it was his intention to seek the Conservative nomination which he did.
After the Conservative Party removed him as the candidate saying he violated the rules, the door was open to represent the PPC.
King says the riding of Nipissing-Timiskaming has been left behind by the federal Liberal government.
He used an incident from North Bay city council to make his point.
King has been outspoken at council over the cross-wind runway project at Jack Garland Airport saying the $3.1 million project should be paid for by the federal government.
Instead, he says what's happed is the taxpayers of North Bay have to pay the cost for that infrastructure at a regional airport.
King says he spoke to PPC Leader Maxime Bernier on the phone for 35 minutes and says Bernier assured him that as the MP for the riding, this is the kind of issue he would be able to raise in Ottawa.
King says although he has no personal vendetta against incumbent Liberal MP Anthony Rota, it's his intention "to hold Anthony Rota's feet to the fire because he's directly behind our failures".
He says unlike the Tories and Liberals who have people in place that watch and control what an MP says, the PPC is not like that.
King says the election campaign in the riding won't be about personalities between him and Rota.
"The issue will be who is better prepared," he said.
"Who can better represent the region and do you have an opportunity to put the region's issues forward in Ottawa."
King says he'll be able to do that stressing he can "put points across in Ottawa" while Liberal MPs can't because "for the Liberals, everything is scripted."
King says he's well known in the riding and his character stands for something.
"People know I speak the truth and stand up for the region," he said.
"They know I can't be pushed down.  They know I will fight for what's right."
On the issue of drugs, King commends North Bay Police Chief Scott Tod for recognizing "the huge issue we face in communities" and the opioid crisis on a national scale that needs to be addressed, perhaps through the formation of a task force.
Turning Highway 11 North from North Bay to New Liskeard into a four-lane highway is another issue King intends to pursue.
He says people may perceive highways as a provincial issue, but is reminding voters that Marc Serre, the Liberal MP for Nickel Belt, recently announced $90-million for the Highway 69 extension.
King adds something needs to be done about Highway 11 North because people are four times more likely to die on it than any other Ontario highway.
As King enters the campaign, he faces two political parties in the riding that have lots of money to spend.
However, he's not concerned that the PPC doesn't have as much funds to put into a campaign.
He says North Bay Deputy Mayor Tanya Vrebosch spent very little money on her re-election bid while others spent considerable more and failed to win.
King says social media appears to be a serious way to campaign nowadays in terms of getting a message out as well as the traditional door-to-door stops and meeting with voters in their communities.
"Will the general public be swayed by high-cost advertising schemes or will they be more interested in fundamental issues that affect them on a daily basis," King said.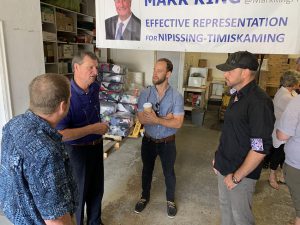 On the issue of the Conservative Party removing him as the candidate claiming he broke the rules, King says the "reality was they wanted someone else there".
What cost King the Tory nomination was the Conservative Party claim that he had used a corporate credit card to buy his Conservative party membership and that nullified his candidacy even though he won the nomination by a large margin.
However, King says although he has a corporation (1300204 Ontario Inc), his business H. Freeman and Co Limited is a sole proprietorship that he owns.
He says H. Freeman is not a corporation.
King adds it's the business credit card with his name on it that corresponds to H. Freeman that he used to buy the party membership and insists he did nothing wrong.
Elections Canada says a business credit card can be used to buy a political party membership in the case of a sole proprietorship but not if the business is a corporation.
"The Conservative Party only used that to stop me from voting," he said.
He said it was unbelievable that party organizers waited until the June 17th nomination night to tell him that he couldn't vote and said he was no longer a candidate.
When an individual puts their name forward as a political candidate, the Conservative Party requires $1,000.
King says as of Wednesday he still had not received his $1,000 back.
King says he's entitled to get the money back since in the eyes of the Conservative Party he was not a candidate.
King says he hasn't formally asked for the money back yet, but intends to and will issue a statement on what happens in this area.
As for the campaign, King will be in London, Ontario on Friday meeting many of the PPC candidates.
As of Tuesday, PPC leader Maxime Bernier had 319 candidates so far to run in the country's 338 ridings.
The federal election is October 21st.