The Rural and Northern Immigration Pilot program was officially unveiled in North Bay Monday morning by Nipissing-Timiskaming MP Anthony Rota.
The announcement took place in the main foyer of City Hall with several dozen people taking in the event firsthand.
In all, the pilot involves 11 communities in Canada, and five of them are in Northern Ontario.
They are Sudbury, Timmins, Sault Ste. Marie, Thunder Bay and North Bay.
The North Bay portion actually includes more than North Bay.
Rota says the corridor takes in Nipissing District, including West Nipissing, south to Burk's Falls and north to Temiskaming Shores and Kirkland Lake.
The federal government created the pilot to attract immigrants who will fill positions in skills shortage areas.
Rota says for the North Bay region, the newcomers would start to arrive in the fall of 2020.
Under the program, a maximum of 250 skilled workers a year would come to the region for five years.
Rota says the individuals may come by themselves or with their families, adding it all depends on individual circumstances.
Rota says the program is employer driven.
He says he's met with many employers in the riding who have told him they can't find workers to fill their jobs because they don't have the necessary skills.
"So employers have to come forward and identify what kind of skills they need and find someone in another country so we can bring them here and fill the needs of Canadian employers," Rota said.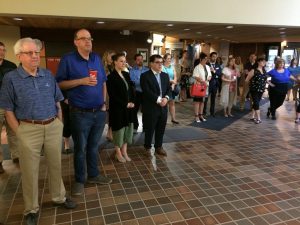 Rota says the pilot is open to the world.
People with the skills that are needed to fill vacancies can come under the program.
Rota acknowledges that there are some Canadians who are not welcoming and will have racist things to say about immigrants coming to a new land.
"But the majority of people in the riding are very welcoming," he said.
"They are very open to immigrants and they understand what immigration brings to us.  (But) you're going to have naysayers no matter what you do."
Rota says Canada's population is ageing and young people are leaving the north.
Figures show that 80 percent of immigrants settle in Canada's 10 largest cities.
The pilot hopes to change that number a bit by getting immigrants to come to smaller regions of Canada including North Bay and area.
Rota says immigrants help enrich Canada economically, socially and culturally.
He says they come to a new land, helping to increase the population, they become volunteers and give back to the community.
That point isn't lost on North Bay Mayor Al McDonald who was also at Monday's announcement.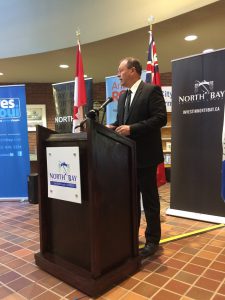 McDonald says the city is proud to be a partner under the pilot adding it's excited that it was chosen as one of the five northern communities.
"We have an opportunity to attract and retain new immigrants and strategies to grow the city," McDonald said.
"This is a critical component of our growth strategy."
He's encouraging businesses to work with the North Bay and District Chamber of Commerce which will administer the pilot program.
Rota says when the immigrants arrive, they will be self-supporting because they are going to a job.
He says there are support mechanisms in place like helping them to learn English if necessary.
The pilot has many partners in the North Bay region like the North Bay & District Multicultural Centre which would help newcomers find homes.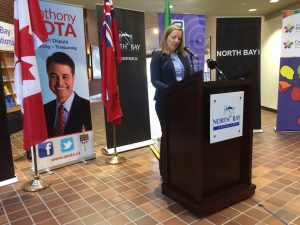 Another partner is Yes Employment Services and LeeAnne Maille, its Executive Director, says Yes regularly runs into problems not being able to find people with the skills employers need even though it fills countless jobs each year.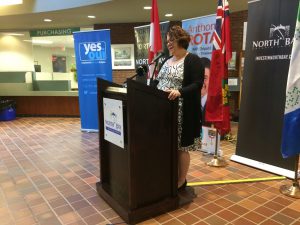 "There are many jobs that go unfilled and we need to fill them if we want to grow our city," Maille said.
Rota, who is the son and grandson of immigrants, wants to make one point very clear.
He says the immigrants will be responsible for themselves.
Although they have to do some legwork as well to get settled in, they won't be coming to a new nation to go on welfare.
"They're coming to do a job," he said.
"They need us as much as we need them."
Rota says although the maximum is 250 skilled workers for the North Bay region, he says "it will be (his) job to elevate that number if we need it."