North Bay has its new Police Chief.
Deputy Chief Scott Tod was sworn in on Thursday as the community's latest chief, replacing Shawn Devine.
During the ceremony, Mike Daze was sworn in as the police services' new Deputy Chief.
In assuming command of the service Tod said a challenge all police services face is the health of their employees.
"If our employees aren't healthy, then they can't deliver the services to the community that we should be delivering," he said.
"We've learned over the past few years about post-traumatic stress disease and occupational stress injuries and how many traumatic events police officers experience in their careers.   We have to address that by providing better peer support programs internally, better psychological services for our members so they can be healthy and happy at work and can provide really effective service to the community."
Tod says a police department needs to take advantage of technology and incorporate it into its daily work which can help provide more effective patrol strategies.
During his speech to the audience of more than 100 people at The Grande Event Centre, Tod talked about being the finest police service out there.
Later with the local media, Tod explained he truly believes the North Bay Police Service can be one of the finest across the nation.
"I don't think we're far from that mark right now," he said.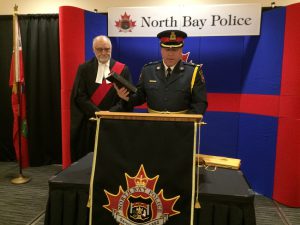 Tod says many past chiefs with the North Bay service have built an effective operation but adds there are always things that can be done better.
"I think any organization that stands there and says there's nothing we can do better is probably a short-lived organization in today's world and we know we can do better," Tod said.
As for providing a better service to the community, Tod said one area he'd like to concentrate on is cybercrime.
He believes this type of crime may not be being addressed properly.
Tod says there are many victims of cybercrime in the community and it demands more attention.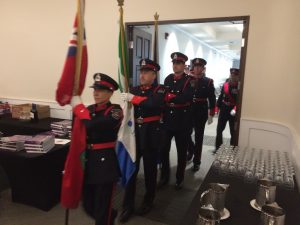 Asked about a new police building since the present facility is getting older, Tod said for now it's not among his top three priorities.
He says the department will be doing work on the existing building to ensure it's safe for the personnel.