Ray St. Pierre, the former Chief of the West Nipissing Police Service, made one last command move before the municipal force disbanded on Thursday.
St. Pierre issued a statement thanking the many groups the service has partnered with over the years to help make a safe community.
The former Chief, who transitioned to the OPP on Thursday, included the uniformed and civilian staff, both present and past with the West Nipissing police in his thanks for their dedication to service.
Also recognized were the family of emergency personnel who supported the members over the years.
St. Pierre gave a thank you to the media as well which he said would always get messages out to the public when necessary.
He says this is sincerely appreciated.
Speaking to the residents of West Nipissing, St. Pierre adds "it has truly been an exceptional experience" to serve the community.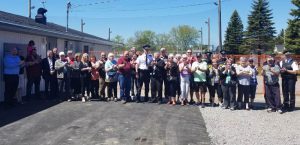 The Nipissing West OPP officially assumed command of the municipality as 12:00pm Thursday