Paramedics are at Northgate Shopping Centre this week showing the public the types of things they do and the services they provide.
Their appearance is part of Paramedic Week which was officially launched in North Bay on Monday with a proclamation from North Bay Mayor Al McDonald.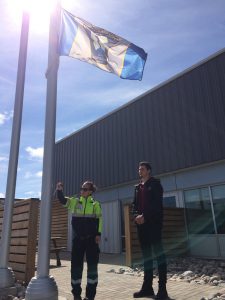 Jean Guy Belzile is the Chief of EMS for the District of Nipissing.
Belzile speaks highly of the paramedics and adds they do great work across the district.
He says the paramedics don't go out looking for thanks, but he adds this week is a time when the public can see them at the mall, shake their hands and learn a bit more about the type of services they perform.
EMS falls under the District of Nipissing Social Services Administration Board and the chair of the board, Mark King experienced firsthand several months ago the work of the personnel.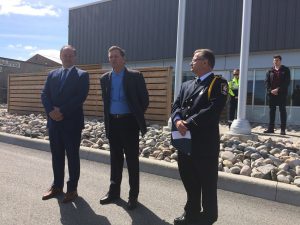 King says on December 23rd his father-in-law had a major mental collapse and he calls the work of EMS "tremendous".
"He was removed from the home and they took excellent care of him," King said.
"There was a sense of compassion from EMS and I want to thank the group."
King's father-in-law passed away three days later.
Belzile says over the years EMS has seen a surge in its annual calls going roughly from about 15,000 to 19,000 a year.
He says significant reasons for this is the opioid crisis that's gripped the country but also the number of seniors who don't have access to a long-term care facility and end up becoming ill in their home.
Asked to comment what effect merging the 59 EMS in the province to 10 will have, Belzile says there are many unknowns at this time.
Belzile doesn't disagree the mergers will produce savings in the managerial sector however, he doesn't believe going to 10 EMS will affect frontline services.
EMS in Nipissing employs 80 full and part-time personnel in addition to casual workers.
In addition to North Bay, its coverage area covers the Highway 17 corridor from West Nipissing to Mattawa, south to part of Algonquin Park and north to Temagami.